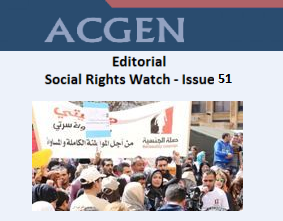 The occasions of Mother's and International Women's Day created an opportunity for Lebanese women to challenge discrimination against them, particularly when their basic rights in citizenship and equality are still denied. On Sunday March 22nd, which coincided with Mother's Day, 'My nationality is a right for me and my family campaign' organized a sit in at Riad El Solh Square in Downtown Beirut, to reiterate their demands and raise their voice in denunciation of the persisting position of politicians in denying their rights. To recall, achieving equal citizenship rights in nationality was stalled when the Cabinet two years ago turned down a related proposal on the pretext of maintaining demographic balance and of a disputed so-called plan to settle Palestinians in Lebanon. Meanwhile, a number of presidential decrees were issued without any political objection, and that totally disregarded the above pretexts.
It is now common public knowledge that sectarianism has been festering the nation and state institutions and tainting all government and legislative decisions, ranging from waste management to other vital social and economic issues and files, such as appointments in the Lebanese University and other public sector institutions, etc…
One glaring example of political inconsistency is the decree No. 10214 issued in September 2013 by former President Michel Sleiman which granted Lebanese nationality to some 112 Arab and foreign persons, including Americans, Italians, French, German, Canadian and Mexican in addition to Jordanian VIPs. The decision was not based on clear selection criteria but rather on pure political favoritism and clientelism. Former President Sleiman also issued a subsequent decree just before the end of his term in May 2014 to grant Lebanese nationality to another 700 Arab and foreign nationals, including Palestinians and citizens from 31 different countries. It is to be underlined that despite the fact that this second decree included Palestinians and a clear confessional majority, however it do not raise any political protests nor was considered as a serious breach of the Constitution.
Another clear example of a political hypocrisy and maneuvering was the agreement last week between the Lebanese Forces and the Free Patriotic Movement to jointly submit a new law proposal that allows Lebanese emigrants and their descendants to regain their Lebanese nationality. It goes with saying that the proposed law will deny Lebanese women that right in yet another striking disregard to gender equality and the rights of women to equal citizenship.
Once more, it is obvious that human rights and equality in Lebanon are frustrated by a confessional system that holds citizenship rights in complete disregard while favoring sectarian political strata whose only survival depends on what is commonly known as "confessional equality and balance".