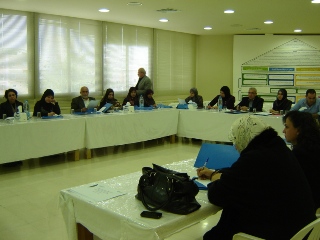 The Collective for Research and Training on Development – Action organised a consultative meeting with members of rural women cooperatives in Tyre on March 22nd in order to discuss the current situation of women and scenarios
for moving forward with women's economic empowerment.  This consultative meeting was organised within the framework of CRTD.A's Regional Economic Empowerment for Women Project which is managed by Oxfam Quebecand funded by CIDA.  The meeting follows a series of preceding events that were held with members of rural women cooperatives, non-governmental organisations, trade unions and public sector institutions during the course of last year.
 
The event was attended by 32 participants representing various public sector institutions, rural women cooperatives and production groups, and trade unions.  The discussions pointed to a number of key issues notable the limited participation of women in the economy, the weakness of the current national social security system and its impact on women, the persistent gender discrimination in the laws, in the wage system and in access to entitlements as well as the gender discrepancies in educational and employment opportunities.  
Participants concluded that the limited coverage of the current national social security system is a priority issue for follow-up and set up as a result a working group to develop an action plan for awareness raising, mobilization and lobbying.